Did you know you can actually buy tickets to the Tony Awards? It's true, I did it! My friend and I spent $334 each (including fees, no shame) to watch the 69th Annual Tony Awards from seats in the third from last row of Radio City Music Hall.
We all know the flow of an Awards Show. The witty hosts; the build up to an award; the acceptance speeches; the seated celebrity cutaways.
I wanted to share what happens when the cameras aren't on during a live awards show.
First: Arrival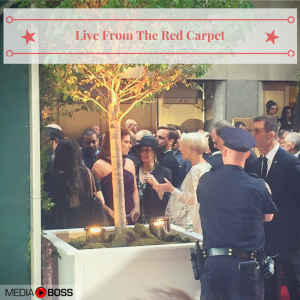 After getting all dolled up at a friend's apartment in the middle of the Bronx, we took an Uber to Radio City Music Hall. As we were not "officially" deemed celebrity status by the "people who matter", we got out of the car at the end of the blocked street.
We were a couple of hours early so we grabbed dinner in our black tie attire at a convenience store. Then attempted to spot celebrities on the red carpet.
Both my friend and I (despite heels) are height-challenged. We are short. Because of our vertical disadvantage, it was through the raised screens of others' iPhones that we caught glimpses of Kathy Najimy, Debra Messing, and Dame Helen Mirren as they exited their cars. This brought a new meaning to "live television" for the both of us.
We entered through the back entrance of the Hall with the other plebeians who had spent an exorbitant amount of money for the experience of watching tourists wonder why we weren't important enough to be on the red carpet.
Then: The Pre-Show
As ticket holders, we knew the doors closed at 7:00. What we didn't know was it was due to the pre-show beginning at 7:05. Luckily, my friend and I made it to our seats just in time to hear the 5 minute call. This was after a trip to the bathroom with someone I swore was P!nk, and paying $15 for a glass of wine. It was not P!nk. It was wine.
The pre-show consists of the presentations they show clips of after commercial breaks.
"Earlier tonight, we presented the award for this category you should care about to this person you should probably know." Also: "This is what the people who run this event had to say."
So think about this. When an awards show runs a half an hour to an hour long, the theatre audience has been sitting there for an hour longer than you have. Those awards also continued during most commercial breaks. This year, the presenters of these awards were the 2014 winners for Best Featured Actor and Best Actress in a Musical, James Monroe Iglehart and Jessie Mueller.
There was a mysterious man on the God mic (the microphone used to address the whole theatre). He announced the amount of time before going live. When the 45-seconds-to-go mark would hit, one could watch a scramble of seat-fillers trip over each other to make it to their seats in time. At five seconds we were all instructed to clap and the lights rose and the show began.
Next: The Tonys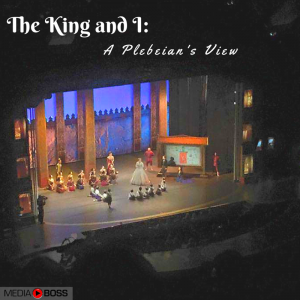 Watching the show with a production perspective was impressive.
It was clear how much the crew had rehearsed to guarantee a smoothly run show. There were five steadi cams that roamed the floor for close-ups during nomination announcements. One of those also covered the stage. During performances this camera operator would sprint from the floor, up and over into the pit. Then he'd run onto the stage, and back into the pit with the help of his back spot. They all always knew where to be and where they were going. I assume they had earpieces telling them this info, but rehearsal notes were definitely studied.
There were three jibs. Three giant jibs. Two were hanging from the third mezzanine in front of us so the plebeians were not seen on television. The third one stayed on stage. It rolled out from behind the curtain to capture performances. During presentations it stayed hidden behind the curtain.
The stage was divided into several parts. Part of the stage was lit for award presentations and bits from the adorable hosting duo, Alan Cumming and Kristin Chenoweth. The other parts had cameramen and crew running around setting up for the next "scene". In fact, when Rose Byrne and Bobby Cannavale were presenting for Best Featured Actor in a Musical you may have seen Rose Byrne laughing and looking away from the camera. Maybe you assumed she found the bit Chenoweth and Cumming did dressed in gender reversed roles from The King and I, amusing. Well folks, I'm here to tell you what really happened. While exiting the stage, Cumming's dress got stuck. Chenoweth tried her best to pull him off stage by his arms, but it was a man in the audience that reached up and freed the dress. This is what live theatre is all about, people.
Finally: Personal Wrap Up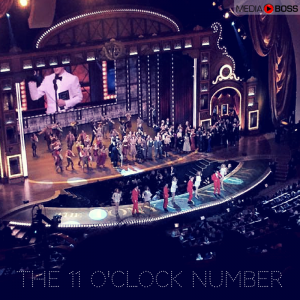 Although we were physically there, a part of me still felt like a spectator in the same way I do when I watch it on television. We were so far away that there were only two ways to tell who was talking on stage. Through the announcement of their names or by looking at the big screens on either side of the stage.
But this awards show is not designed for the entertainment of the 3rd Mezzanine patrons, is it?
It's purpose is to celebrate those who have accomplished amazing feats in the world of theatre.
It was this detachment that humbled me. I'm a theatre junky and I've never felt as fortunate as I did witnessing my heroes' achievements recognized. Even if it was through a second screen.
I mean, I was in the same room as them. The. Same Room.
Nothing could beat celebrating the triumphs of the Broadway family in a room - and mezzanine - filled with fellow passionate theatre people.
This year Broadway had more patrons than all the major New York sports teams combined. The Award for Best Book of a Musical went to an all female writing team. The first Excellence in Theatre Education Tony went to a performing arts teacher from North Carolina. And the Award for Best Musical went to a show about a young lesbian growing up with her gay father, Fun Home.
It was an experience I am grateful for - and hope to never pay for again. #TonysInviteErica2016
Below is a poor quality clip of what it was like at 50 seconds before going live after a commercial break. Please excuse the lady who was leaning forward in her chair expecting to see more that way.
[video ogv="http://mediabosstv.com/wp-content/uploads/2015/06/lsp_img_50Seconds_090615-081635.ogv"][/video]
[starbox]