When we go out on a shoot we always like to be prepared for anything. That means good pre-production and bringing a lot of gear to the location. So it's not unusual to see a cart loaded like this:
At MediaBoss we also fly internationally to produce shoots for our clients. That presents a unique challenge. How do we keep production values high, but travel efficiently? So, the goal is to take THIS gear and...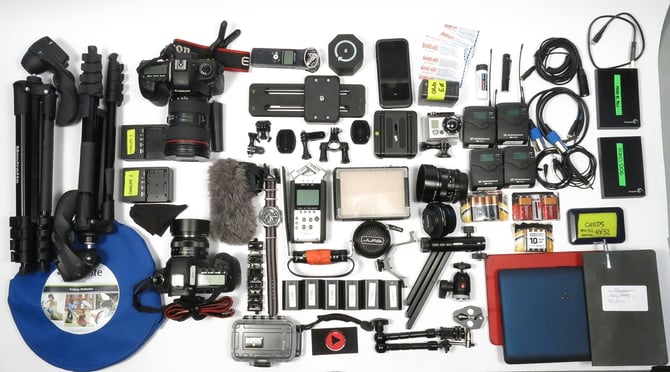 ...and fit it into THIS bag: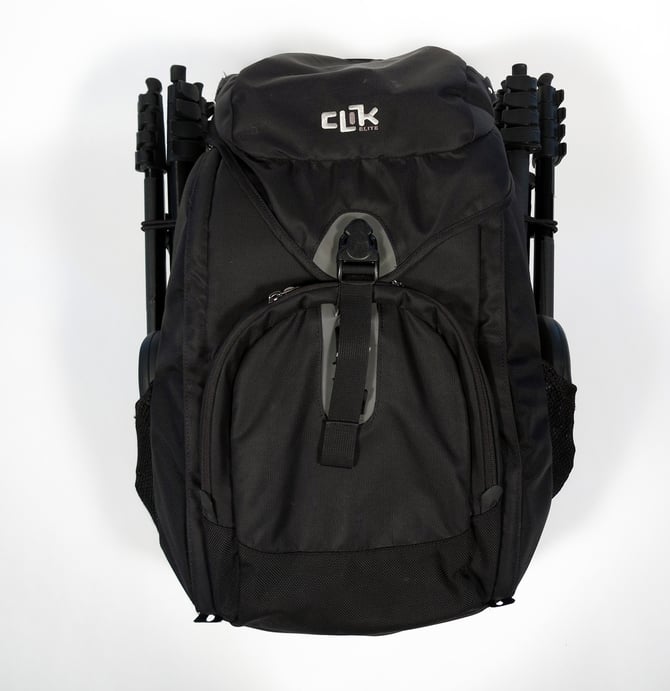 The first question might be: Why not hire someone in the market to shoot the video? And the answer is simple. Consistency.
Subtle aspects like composition, lighting, mic placement vary greatly from crew to crew. Unless you have a working relationship with a company, you can't guarantee a consistent result. It's too big a risk us to take, especially when we know we are only going to get one chance to capture the footage.
So, when that 'one shot' opportunity for a testimonial with a CEO halfway around the world presents itself, we need to come prepared.
Inside this small camera bag is 22 pounds of video production gear that we use to provide the highest quality shoot that we can fly with in the overhead bin of a jet. In a lot of ways, it's a back to basics approach using the most reliable gear, with the most consistent results. We'll provide a gear list of about 50 items that we always bring when we can't bring everything.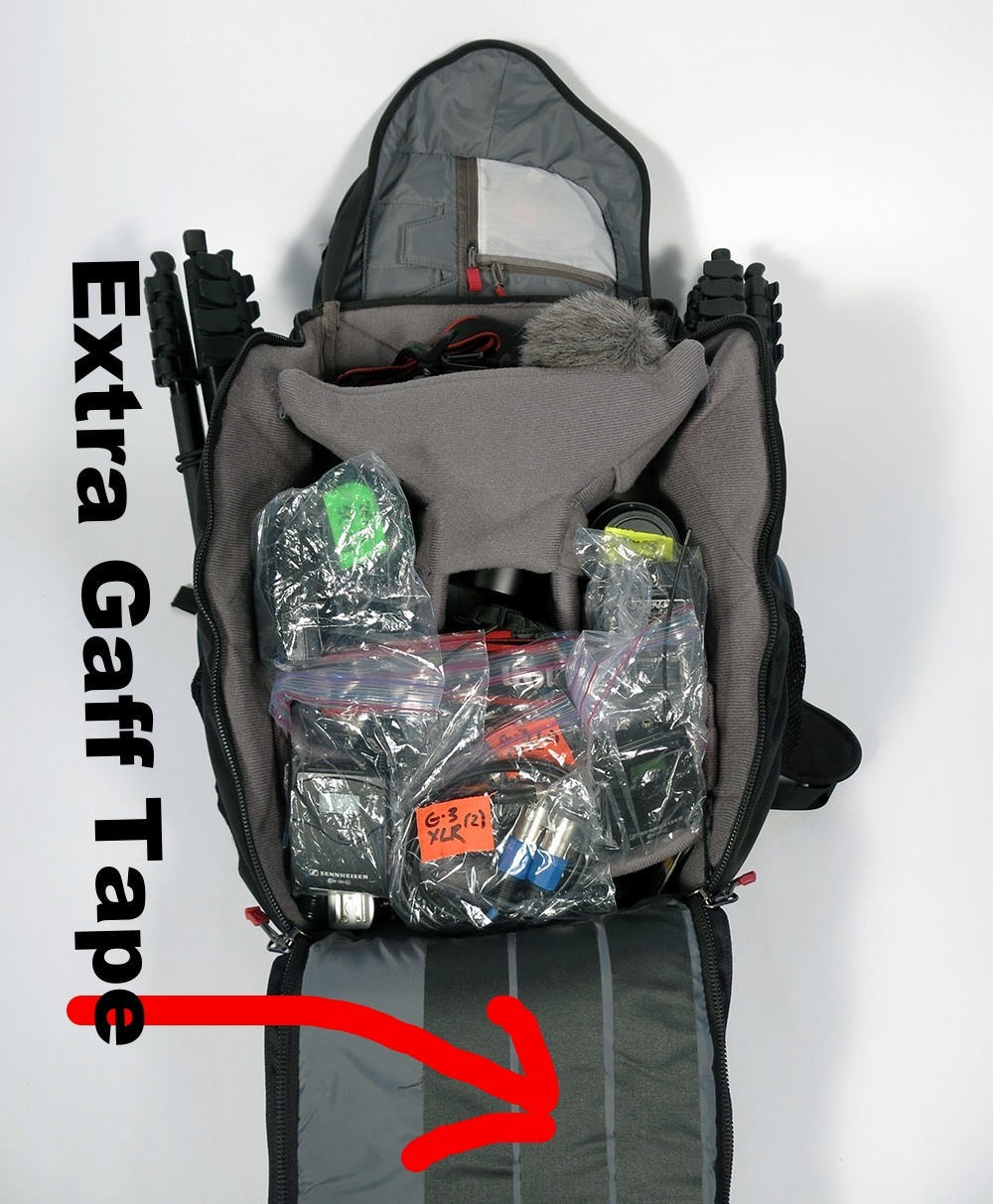 First off, we pack our compact and reliable Canon 5D Mark IIs with matching Zeiss 50mm prime lenses. These give us beautiful images and excellent low-light performance. With two cameras, we can do a standard 2 person interview or a A/B camera set-up on the subject. This latitude gives us the most options in post, especially with long interviews. We also bring a Canon 24-70mm and a Canon 22mm lens for additional shooting options.
Next up are the tripods. On a shoot like this one person has to run the entire rig, camera operator/producer/audio/director, without tripods we'd be sunk. Also to save space - and weight - we need lightweight aluminum ones. These usually go in our checked luggage while flying. On the ground we attach them to the camera bag so everything we need is in one compact space, easily portable and available on the day of the shoot. Generally speaking, fly away gigs include a lot of quick set-ups and strikes over a short period of time. We don't get the opportunity to tweak too many things. On any other local gig, we'd have a camera operator and audio/PA at a minimum for even a small shoot.
Audio is critical. In a situation where we have to mic more than a single person we need a separate multi-track recorder. This allows us to monitor and control both sources at the same time. Running primary audio directly into the cameras is not an option for us. Enter the reliable Zoom H4n, a mainstay of our location production since it was first introduced. We also use Sennheiser 100 G3 wireless lavs for audio because we need to mic both host and talent. We also need to be prepared to move quickly from location to location, which makes hardwired mics a no-go. Finally, as a fail-safe backup, we bring a Rode VideoMic Pro shotgun mic. We place it on the camera closest to the talent and send that audio directly to that camera.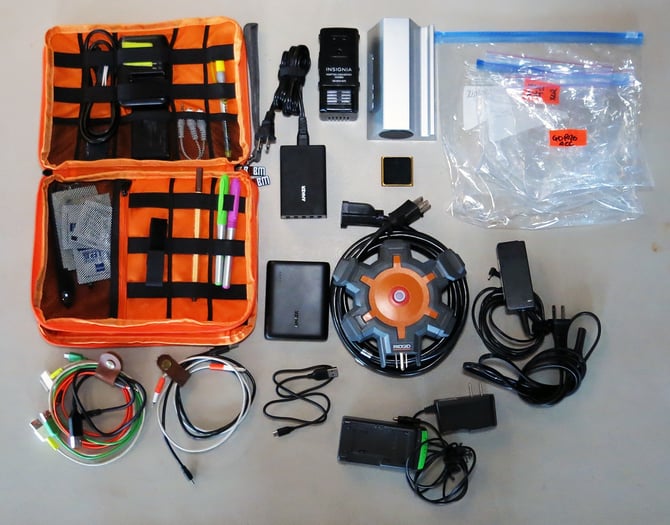 For lighting, we need to rely on a good light source for quality and consistency. So on the way to a shoot we always keep an eye out for a quiet corner with a good base of lighting. We augment what we have with a simple LitePanel LED and a small collapsable bounce (which is also great for single person stand ups in daylight).
When it comes time to roll, we break out the iPad which has an excellent Production Slate with timecode and a TelePromter App for on camera reads. The Production Slate also allows us to take notes in the app and email them to the editor.
Those are the basic, must-haves. But most shoots require us to bring something else to the table. Because of this, we never leave without GoPros, time lapse gear, a mini-slider, Canon G-15 (for quick pick ups and production stills) and of course an iPhone. We also bring a host of clamps and a back-up lav and recorder. This saves us in the case of an emergency like the sudden addition of on-camera talent or the need to capture an additional audio source.
It's important to note that, everything we need to shoot is in the backpack on the plane as a carry-on. Even a lost luggage scenario would not stop a MediaBoss shoot. In that case we'd stop by any camera store and grab a pair of cheap tripods and we'd be good to go. This is critical and absolutely company policy on our very frequent, 'turn and burn' shoots. i.e. Boston to San Francisco and back in the same day or Boston to London and back in 30 hours. Yup, we do that. As our Creative Director, Ian Barrett, says, 'that's Rock and Roll'.
By the way, he's the guy we sent to India to do our latest shoot. Here he is directing somewhere a bit more local...
Our abbreviated gear list is attached. Hope you enjoyed reading this, feel free to ask questions or share your comments.
Gear List
Click Elite Backpack (discontinued):
Manfrotto 60' compact tripod
Manfrotto 60' compact tripod
Lasolite 18" reflector
Canon battery charger
Canon battery charger
Canon 5D Mark II "A"
Canon 5D Mark II "B"
Lens cloth
Canon 24-70mm
Zeiss 50mm "A"
Zeiss 50mm "B"
Rode VideoMic Pro
Seiko Chronograph
Leatherman "Tread" Multi-Tool
Rode lavalier mic
Zoom H1 Recorder
Edelkrone Slider One
Edelkrone Flex Tilt Head
GoPro with mounts
20. Zoom H4n Recorder
Camera bracket
(6) Canon Batteries
Business Cards
Camalapse 4 panoramic head
LitePanel Micro Pro w gels
J-Lab J5 ear buds
Vello V-Rig bracket
Friction Arm with clamp mount
Manfrotto ball head mount
Mini tripod
Canon 22mm "pancake" lens
32. Sony NP 970 Battery
Sennheiser 100 G3 Wireless Lav "A"
Sennheiser 100 G3 Wireless Lav "B"
(8) AA Batteries
(8) AAA Batteries
(2) 9v Batteries
iPad Air w/Apps
Asus Notebook Computer
Moleskine w/ mechanical pencil
Seagate 500 GB backup drive "A"
Seagate 500 GB backup drive "B"
(4) 32 GB SanDisk SD cards w/ case
iPhone 5s
(Not Pictured) Bose QC15 Headphones
Checked bag/Carry On
1. Accessory case
2. Canon G15 and Charger
3. Multi-Card reader
4. Power cables (assorted)
5. Anker 1300mAh Battery
6. Anker 40w 5 port Charger
7. 6' AC stinger
8. Rigid 5 outlet extension
9. Sony NP charger
10. iPod mini
11. Bluetooth speaker/charger
12. Laptop power supply
13. Insignia power adapter/converter
Additional Resources: